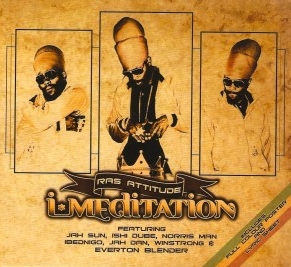 Two years after 'Trodding Home', Ras Attitude is back with his sixth album called 'I Meditation', out on US label Universal Balance Entertainment.
Don't think that the man stopped music during these past two years, he was working on his new set but also voiced a lot of rythms like the wicked Rastar Riddim in 2007 (Faith In Jah), the Show Love Riddim from Itation Records in 2008 (Only Jah Knows), Lustre Kings' Proverbs Riddim (We Try featuring Norris Man) or more recently the Standing Firm Riddim from Sick Donkey Records.
Anyway, he's now back with a 17 tracks set including several guest appearances from Norris Man on the tough Great God, Everton Blender on Whip Dem but also artists like Jah Dan, Ibednigo, Winstrong and American Ishi Dube, who produced the album.