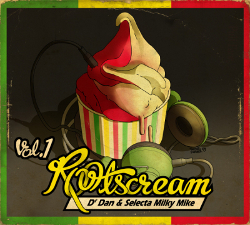 There is a new roots compilation produced by IWelcom. Called 'RootsCream vol. 1', this mix-cd is the first in the series of the Cream compilations. It features Jamaican classics as underrated tunes from the 70's selected and mixed by two Frenchs DJs : Dr Dan and Selecta Milky Mike.
Featuring Dennis Brown, Winston Jarrett, Bob Marley, Bitty McLean, Ken Boothe, The Tamlins, The Clarendonians and many more.
Rootscream a strictly Roots ! Out in France on november 16th.