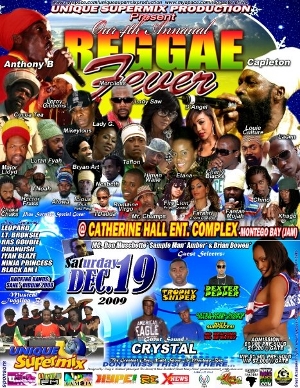 The annual Reggae Fever night has been holding a series of road shows to promote this year's event with organisers saying that "they are looking to raise the bar for entertainment in this year", according to an article in the Jamaica Observer. Apparently they have been really pushing the promotion of the event, with radio and television ads, as well as using a highly visible in-the-street promotion. Chief organiser of the event Donavon Carter says "that the shows, which have been held at the Pier One venue in MoBay, have been receiving good support". He also goes on to explain "this year's event has a unique twist, in that emerging talent will be given a chance to showcase their skills. We started a talent show series earlier this year and the top stars emerging from it will be given the opportunity to perform on stage at Reggae Fever 2009".
The first of these road shows kicked off on Friday, November 27 at Sam Sharpe Square, while last weeks road show saw a bumper crowd in Cambridge Square. The final show before the main event is being held this week, December 11 at Wakesfield Square in Trelawny.
Some of the biggest names in reggae music including Capleton, Cocoa Tea, Anthony B, Lady Saw, D'Angel, Chino, Laden, Charley Black, Fantan Mojah, Khago, Hitman Walle, Mickeylous, Major Lloyd, Mr Chumps, Lady G, Nesbeth, Dadda, Brahyan Art and Inoah., have been confirmed to perform at the event this year along with these upcoming acts. The actual Reggae Fever show will be held at the Catherine Hall Entertainment Complex on Saturday, December 19.
Reggae Fever is organised by Unique Supermix Productions and providing music for the event along with them will be, Trophy Sniper, Dexter Pepper and Crystal, while MC duties will be handled by Ron Muschette, Sample Man, Brian Bowen and DJ Amber.