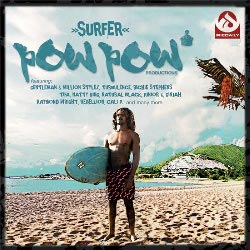 Outstanding German imprint Pow Pow Productions is at it again with the release of their newest creation to album, the 'Surfer' Riddim. This piece follows a very nice and consistent catalogue of strong riddim releases for the label such as the 'Blaze', 'Shanty Town', 'Superior' and the 'Gladiator', and it continues and maintains the very high standards which they have set for themselves.
Of course what listeners will first notice is the fact that, checking in at a huge twenty-six tracks, the Surfer is by far Pow Pow's most expansive release to date and thankfully it comes packed not only with solid names such as Gentleman & Million Stylez, Natural Black, Natty King, Lukie D & Turbulence; but potentially excellent up and comers such as Danglin, Tina Nunezz and recent Pow Pow find, the big voiced Raymond Wright.
The Surfer Riddim is currently available on etailers right now, worldwide.