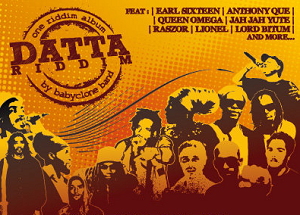 New French label 149 Records comes out wih its debut riddim called Datta Riddim. This is a fresh modern roots production from the Babyclone Band from South of France. They voiced names such as Queen Omega, Anthony Que, Earl Sixteen, Raszor and Jah Jah Yute alongside up-and-coming French singers and deejays.
Out now on a one riddim CD and due out on 7''early 2010.
With special mentions to Anthony Que's Ease Up The Pressure, Queen Omega heavy Travelling and to Raszor S-K Zion's Give thanks. Check out the megamix !