While the international The Beat magazine unfortunately closed down (read the news) one month ago, we are glad to learn in the same time, that a new magazine, out of Europe, is born. It's called Irie Up and is going out every two months.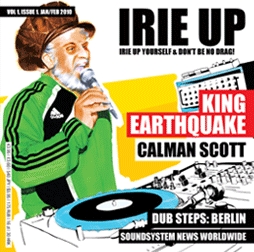 « It's devoted to all kinds of roots reggae and dub, instrumental to digital to vocal... from Brazil to China and the magazine is produced by people involved in soundsystems around the world », told us the chief editor, Ronan Lynch. The team, who have offices in Berlin, Dublin and Warsaw, will highlight on the international 'small' reggae and dub scenes but not only : first issue features an interview with Jamaican veteran Calman Scott and an interview with UK sound system King Earthquake.
Irie Up #1 also features an article about Paris records stores, photostories from University of Dub (UK) and Dub Station (France), reggae news from Poland, Germany, Italy, Croatia, Brazil, New Zealand, Russia, Holland, Ireland and the UK, reviews, soundman stories and an article about Haile Selassie in Washington DC. « There's a history of dub in Berlin since the fall of the wall, and many smaller articles covering history of reggae in Croatia, Italy and Brazil », added Ronan.
For more information about the distribution of Irie Up, check out their website.