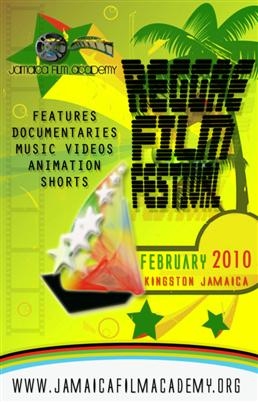 Starting on February 23rd at the ballroom of the Hilton Kingston hotel, with a red carpet gala reception is the 3rd Reggae Film Festival. To get things underway will be the premiere of the reggae documentary "Ruffn' Tuff – Founders of the Immortal Riddim", by Japanese filmmaker Shizuo Ishi. The documentary features many popular reggae artists including Bob Andy, Gregory Isaacs, Leroy Sibbles and John Holt, all of which will also be there on the night as specially invited guests.
Other films that will be screened during the event include another world premieres of "Reggae in The Ruff" by Don McConnell and Kurt Fuller's new film "Concrete Jungle". A film about "Growing up in Concrete Jungle, one of the roughest ghetto's in Jamaica, the struggles of life was a dangerous task at hand for Singy"
Of the older films on show will be the 1995 Aran Patinkin shorty "Rastafarians of Jamaica" a film displaying "the unique Rasta rituals where they elevate themselves towards the divine with the help of Bongo drums and passionate Reggae music, cloaked in heavy smoke of marijuana, an integral part of their devotion", plus the classic cult movie 1981's story of West Indian youths living in London "Babylon", by Franco Rosso.
The film festival runs until the 27th of February and this year will also see the incorporation of daytime screenings, film making talks, competitions and live reggae acts.
The full list of films showing at the festival so far is
Babylon by Franco Rosso (1981)
Concrete Jungle by Kurt Fuller (2010)
Coping With Babylon by Oliver Hill (2007)
Destination Jamaica by George Tait (AKA Jungle George) (2004)
Duke Vin & The Birth Of SKA by Gus Berger (2008)
Journey Of The Lion by Fritz Baumann (1992)
Kids Paradise by Barbara Blake Hannah (1996)
Made in Jamaica by Jerome Lapperousaz (2007)
Rastafari by James Ewart (2010)
Rastafarians of Jamaica by Aran Patinkin (1995)
Rastafari: Then & Now by Joel Gordon & Patricia Scarlett (2009)
Rasta's Paradise by Parine Jaddo (2008)
Reggae in The Ruff by Don McConnell (2009)
Road Through The Blue Mountains by Barbara Blake Hannah (2002)
Ruffn' Tuff – Founders of the Immortal Riddim, by Shizuo Ishi
The Story of Randy's by Christopher & Clive Chin (2007)