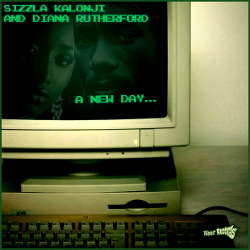 Following what proved to be an outstanding and breakout year in 2009 highlighted by the release of one of the finest albums of the year, "French Connection", from the inimitable Perfect, producer Sherkhan and company at the increasingly wicked Tiger Records are wasting no time in getting their 2010 off to a great start with their first official release of the year, 'A New Day'.
This big combination features two natives of August Town, Reggae legend Sizzla Kalonji and the criminally underrated Diana Rutherford. This song is very strong - It builds a slow, but powerful uplifting and inspirational vibes and it should simply make the people feel good, looking forward to the coming of a beautiful "new day".
What is shaping up to be one of the very first truly great tunes of the new year, 'A New Day' is a digital release and will be available on etailers worldwide on January 22.