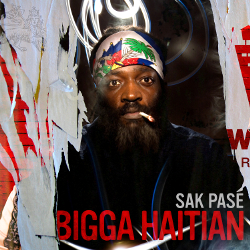 Last year Walkup Records released Bigga Haitians 'Sak Pasé' (pronounced "Sock Pah-say", meaning "What's up" in Haitian Creole) on a digital download only format, available at sites like iTunes, eMusic, Rhapsody and Amazon.
The album received great critical acclaim and its popularity has now meant that they feel the time is right to give the album a full CD launch, which is also a first for the label.
The CD, released on 9th February, also comes with the added bonus of an instrumental version of "I Am A Haitian" featuring saxman Jerry Johnson.
For a review of the album see https://unitedreggae.com/articles/n290/102609/bigga-haitian-sak-pase