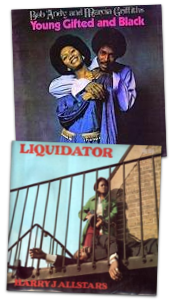 Trojan records are delving in to their back catalogue again and are due to issue a new series of classic albums on CD starting his spring.
These albums will be presented as originally intended, with the original classic album sleeves faithfully reproduced, which for many will be the first time they ever seen re-release in this fashion.
The first albums to be presented will be the best-selling Harry 'J' Johnson-produced 'Liquidator' by the eponymously -named Harry J All Stars and Bob & Marcia's celebratory 'Young Gifted & Black'.
They will be available from all good outlets on March 29th.