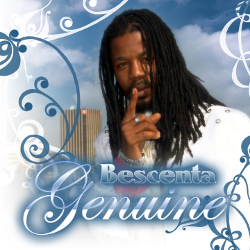 As a very welcome early surprise for 2010, fiery veteran Jamaican chanter, Bescenta, brings forth his anticipated debut album, 'Genuine' for the US and Jamaica based label, Uplifting Music International. Despite not being one of the most popular names at the moment, Bescenta has had a very strong solo career which stretches back nearly a decade, during which he has managed to score several credible hits along the way and do so in a very powerful and upstanding style which is quite original and has earned him fans worldwide.
Featured on the new album are big previously known releases such as 'Calm Dung Yuh Nerves', 'Fari A Whole A Joy' and 'Too Much Killing' amongst others; while listeners can expect very nice newer efforts such as 'Fire Inna Di Heavens', 'Field of Greens' and 'Happy Days'. Also, the album serves as a wonderful introduction to newer fans who may not be so familiar with the vibes of Bescenta.
Bescenta's strong debut album 'Genuine' is currently in stores and estores, via Uplifting Music International and Zojak Worldwide, respectively.