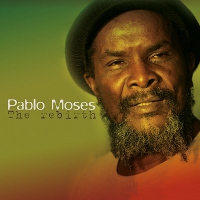 Roots and culture vocalist Pablo Moses finally presents his new album, 15 years after his last studio effort Mission. For this new set called The Rebirth, the Jamaican native from Manchester parish worked with musicians like drum & bass masters Sly & Robbie, saxophonist Dean Fraser, percussionists Skully & Sticky Thompson, keyboardists Robert Lyn and Franklin 'Bubbler' Waul and guitarist Dwight Pinkney.
Alongside this golden reggae team, Moses delivers 13 rootsy tracks including several serious tunes such as So Much, Jah Will Make a Way, More Than You Can Chew and They Can't Undo that recalls Pablo's great work from the late 70's.
Due out on CD in April.