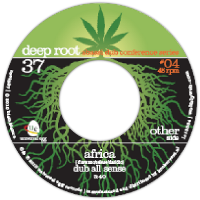 The Abassi All Stars in collaboration with Deep Root present the fourth release in their Dub Conference series, which sees a co-written tune being mixed by themselves and an invited production team, with the results presented on strictly limited 7 inch vinyl only.
This time they have enlisted the talents of Dub All Sense from Caserta, Italy and the release, 'African Pressure' by Abassi All Stars on the A side with 'Africa' by Dub All Sense on the B, is due out on the 12th April on a rather fetching PINK vinyl.
These tunes have reportedly already gained UK and German radio air play and sound system play on Iration Steppers, Vibronics, King Shiloh, Jah Tubby World System and perch's Abassi Hi Power systems.