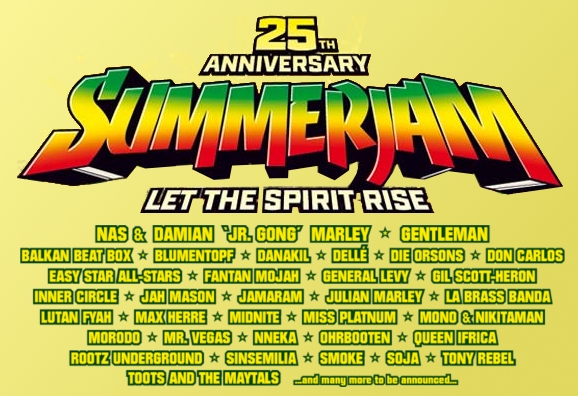 This years Summerjam at the Fuehlinger Lake in Cologne, Germany sees it celebrate its 25th year and will take place between the 2nd and 4th July.
The motto for the event is 'LET THE SPIRIT RISE' which organisers say "gives an indication on the large variety of the musical spectrum of the 25th edition of the festival, but also expresses the pleasure of three relaxed summer days improving one's mind and letting the soul tangle – all this perfectly legal, just with the strength of the Vibes and Riddims"

The festival is seen as place where both visitors and artists of different generations can meet, thus creating the unique atmosphere that has made the festival famous all over the world. Reggae still is the main ingredient of Summerjam Festival, but this year will also feature an appearance from American soul / jazz legend Gil Scott Heron.
The full list of artists confirmed so far in alphabetical order is :
Balkan Beat Box
Blumentopf
Danakil & General Levy
Dellé
Die Orsons
Don Carlos & Dub Vision
Easy Star All-Stars
Fantan Mojah
Gentleman & The Evolution
Gil Scott Heron
Inner Circle
Jah Mason
Jamaram
Julian Marley
LaBrassBanda
Lutan Fyah
Max Herre
Midnite
Miss Platnum
Mono & Nikitaman
Morodo
Mr. Vegas & Thugz Band
Nas & Damian "Jr. Gong" Marley
Nneka
Ohrbooten
Queen Ifrica
Rootz Underground
Sinsemilia
Smoke
SOJA
Tony Rebel
Toots and the Maytals