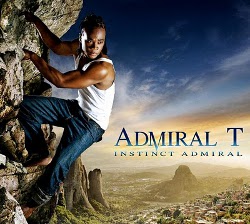 The sensational French Caribbean Dancehall superstar, Admiral T, is set to make his return with his very first album in four years, the hotly anticipated 'Instinct Admiral'. The exciting, energetic and capivating wordsmith has arguably become one of the most popular Dancehall artists in the world via his lightening quick delivery and his amazing live performances, so the fact that his new album is drawing both the type of expectations that it is and has also attracted the type of guest stars that it has is no surprise.
Amongst others, 'Instinct Admiral' features Admiral T alongside the likes of Jamaican star Busy Signal, Guyane Zouk, diva Fanny J and Soca highpower Machel Montano from Trinidad. Also, listeners can definitely look forward to hearing Admiral T show a bit of versatility with tunes of varying ranges and degrees, but certainly the high energy tunes for which he is known are also present.
Arguably one of the biggest releases in 2010, Gwada star Admiral T's 'Instinct Admiral', is in stores worldwide on April 19, courtesy of Don's Music and Universal.