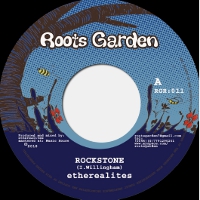 Roots Garden records who have delighted us in the past with their reggae showcase series 12inch ep's have now just released a limited 7inch vinyl from East London's Etherealites, aka: musician, selector and producer Ian Willingham.
This is his second release with the label and hopes are it will have the same huge success of his first release with the label the ska themed "El Toro" from 2007. This time it's a very serene heavyweight drum, bass and keyboard dub with a traditional 'version' b side, same tune slightly different mixing.
Out now on limited edition 7inch vinyl and available form June 2010 on digital download.
A) Etherealites - "Rockstone"
B) Etherealites - "Rock-A-Shaka"