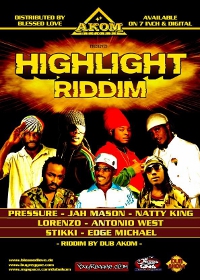 The French label Dub Akom Records releases its new riddim called the Highlight Riddim. The series features positive and conscious cuts by Jah Mason, Pressure, Natty King, Lorenzo but also up and coming artists as Antonio West, Stikki and Edge Michael.
Soon available on three 7'' and for download, this new modern roots and powerful rhythm is composed by the Dub akom Band. Note that Edge Michael's Higher Meditation will be exclusively available for download as the version of the riddim.
Awaiting the release in late March, we invite you to check out Pressure's version just below.