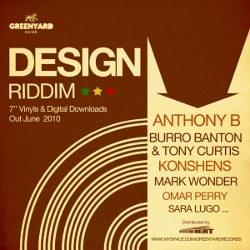 Fans may remember Greenyard Records, from out of France, from one of their previous releases, the sublime My Son Riddim and/or the blaring Jah Light Riddim and now they very well may have outdone themselves with their brand new composition, the Design Riddim. This heavy piece may prove to be one of the stronger riddims from the first half of 2010 and as usual on Greenyard projects, it features vocal talents more than capable of dealing with it.
Appearing here, most notably, is star Anthony B, whose 'Protect Me' is near the head of the class of the riddim and is sure to a major damage. Featuring alonside him are big names such as veteran Burro Banton (with Tony Curtis), Konshens and Mark Wonder who has worked with the label previously. Also on board is the outstanding young songstress, Sara Lugo who is quickly becoming a very important name to know in Reggae.
Greenyard Records brings forth the Design Riddim to etailers and on 7" single in early June and it is definitely worth checking out.