There's a bit of a renaissance of sorts going on with Reggae music coming from the UK these days. With the stereotypical UK Roots/Lover's Rock still ringing through, there's definitely been more of a youthful push as of late with names like Gappy Ranks, YT and the wicked Mr. Williamz being part of that new blood in the system. One could also make the point that the increasingly popular lablel, Necessary Mayhem, from Curtis Lynch Jr. is at the helm of the new movement as well and if you aren't familiar with the imprint, catching up just got much much easier.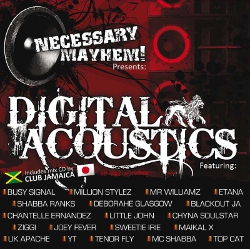 "Digital Acoustics" is a very strong compilation featuring the works of Necessary Mayhem over the past couple of years or so and in doing so features not only some of the strongest UK talent, such as the aforementioned YT and Mr. Williamz (who checks in with the dominant tune 'Real General'), but also some of the strongest talents from around Europe, like Dutchies Ziggi Recado and the impressiveyoung singer, Maikal X. And if that weren't enough, giving the release even more 'star power' are legends Shabba Ranking and Brinsley Forde of Aswad who also make appearances on "Digital Acoustics".
This release, which is a candidate for Compilation of the Year, is already available in digital stores across the globe, courtesy of Zojak Worldwide.
Track Listing:
1. AS MI FORWARD - BUSY SIGNAL &MILLION STYLEZ
2. REAL GENERAL - MR WILLIAMZ
3. WRITE SOME LYRICS - YT
4. 45 SPECIAL - LITTLE JOHN
5. POLICE IN HELICOPTER - MILLION STYLEZ
6. AUGUST TOWN - ETANA
7. JOKER SMOKER (SMOKE IN THE AIR) - ZIGGI RECADO
8. LORD SAVE MY SOUL (Rumours Mix) - CHYNA SOULSTAR Feat: Demolition Man
9. YOUNG GUNZ - MILLION STYLEZ & JOEY FEVER
10. SORT ME OUT - CHANTELLE ERNANDEZ DEBROAHE GLASGOW, SHABBA RANKS
11. MONEY FRIEND - MR WILLIAMZ
12. CALL ME - DREADY, SWEETIE IRIE, YT,BRINSLEY FORDE
13. CAN'T TAKE NO MORE (Solo Cut) - BRINSLEY FORDE
14. DUBPLATE RMX - YT, TENOR FLY, MC SHABBA,UK APACHE, DAVID BOOMAH
15. GET AWAY - MAIKAL X
16. CHAMPION SOUND - YT, MR WILLIAMZ,MILLION STYLEZ, BLACKOUT JA, JAH MIRKLE