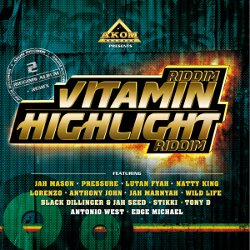 Check out this new « 2 riddim album » produced by Dub Akom Records. The 21 track CD contains the full series of the Vitamin and Highlight riddims plus The Relight, an exclusive dancehall remix of the Highlight riddim.
The compilation starts with the joyful Vitamin riddim featuring tracks by Jah Mason, Natty King and Lutan Fyah - previously released on 7''- followed by new versions from Tony D, Anthony B, Wildlife and Jah Marnyah.
Then, comes the heavy Highlight Riddim. The Dub Akom duet have voiced 9 artists over this serious roots instrumental. Jah Mason, Pressure, Natty King, Lorenzo, Antonio West, Stikki and Edge Michael (their tunes were previously released on 7'' in March 2009) followed by Jah Marnyah and Black Dillinger alongside Jah Seed's tough new versions. Available on CD and for legal download.