UK roots & dub fans should be glad, British Reality Sound system finally comes with its first single release on their label Reality SoulJahs.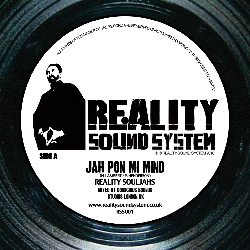 The 12'' features the serious Jah Pon Mi Mind played on dub plate by Jah Shaka and several European sounds over the last 5 years. The tune - based on the classic Bunny Wailer's Rise and Shine released in 1981 on the Solomonic label – was written and produced by Reality Souljahs and remixed at Conscious Sounds Studio. Side B features War & Peace written by Reality SoulJahs, produced & mixed by Bush Chemist at Conscious Sounds Studio. Both vocal tracks are followed by 2 heavy dub versions.
A long awaited modern roots and dub release available now on regular outlets.