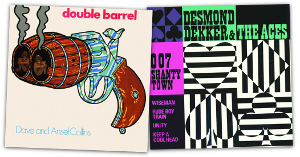 The latest two releases in the new classic Trojan albums series, Desmond Dekker & The Aces' 1967 LP, 007 Shanty Town and Double Barrel by Dave & Ansel Collins have just been released. This is the first time that either have been issued on CD and as with previous releases in the series, Trojan have made every effort to maintain the look and sound of the original albums, with original analogue quarter inch tapes used for mastering and the sleeve artwork faithfully reproduced.
Also just out are four 2CD 40 track sets that mark the launch of a new series that they say is "aimed at highlighting the depth and quality of the Trojan catalogue."
Each of these releases focuses upon a particular facet of the music in much the same way that has been done in the past with their previous 'Box Set Series'. They claim to have many new and unreleased tracks on them and indeed on TROJAN DUB they claim the collection "features a selection of killer Dub sounds, none of which are available on any current Trojan collection". Others in this first batch of four include TROJAN MOD REGGAE, TROJAN SKA and THE HEAVY MONSTER SOUND. The latter is described as a tribute to the Trojan label itself, with disc 1 comprised of twenty of the hits that brought it to mainstream consciousness, and the second CD made up of an equal number of lesser known tracks from the label archives, almost all of which have remained unavailable since their original issue.

Finally another 2CD set due out soon is 'SIPPLE OUT DEH' a collection of some of Lee 'Scratch' Perry's Black Ark productions that originally saw issue in Jamaica as 7" singles during the latter part of the 1970s. Included among these 44 tracks are a number of recordings that made it into the UK Pop and Reggae charts, including title track Sipple Out Deh (aka War In A Babylon) with Max Romeo, Susan Cadogan's Hurt So Good, Curly Locks by Junior Byles and Junior Murvin on Police And Thieves.