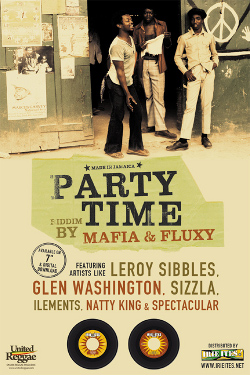 The French label Irie Ites, in conjunction with the dynamic UK duo Mafia & Fluxy, has another relick of a classic rhythm in the works.
After their very popular revisits to Mikey Dread's Roots and Culture and Naggo Morris' Su Su Pon Rasta, they've revived The Heptones' Party Time and are releasing three singles with a rhythm album to follow.
The first 7-inch will be a recut of Party Time with the Heptones frontman Leroy Sibbles on vocals, backed by singer-deejays Natty King and Spectacular with a song called Sweet Jamaica.
Next comes the lovers favourite Glen Washington with Jah Love Holding Firm, followed by Ilements Free Up the Herbs on the flip.
Finally, the mighty Sizzla Kalonji graces the rhythm with Frenz For Life, paired with a Mafia & Fluxy dub.
Have a listen to the Party Time megamix and watch out for the 7-inch releases in the coming weeks. The Party Time album will be released in September 2010.