The legendary and cherished honey-voiced singer Horace "Sleepy" Andy releases a new album on 21st June 2010.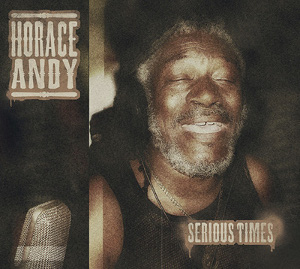 Having indulged his experimental side with 2009's collaboration with Ashley Beedle 'Inspiration Information' for Strut records, Horace is returning to a more traditional roots sound with latest set 'Serious Times'.
A chance link with German producer Andreas "Brotherman" Christopherson – when the latter was recording Capleton – led to a partnership between Sleepy and one of the last decade's most respected European rhythm makers (who has worked with artists such as Lutan Fyah, Turbulence, and many more).
Veteran roots musicians Leroy 'Horsemouth' Wallace (drums), Dean Frazer (saxophone) and Bongo Herman and Sky Juice (percussion) all appear on the record. The rhythms were recorded in various studios including Tuff Gong, Mixing Lab and Big Yard while the vocals were voiced at Duke Reid's old studio in Tivoli Gardens.
Like 'Inspiration Information', the mix sounds sparse and dubby, giving Andy's ageless voice room to do its thing. But don't take our word for it: have a listen to Serious Times and Cool It Down from 'Serious Times' at the top right of the page.