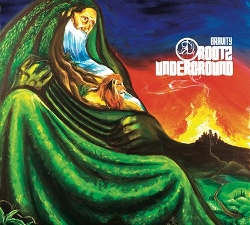 Rootz Underground are to release their 2nd album 'GRAVITY' on June 14th on Soulbeats records. This album is the follow up to their acclaimed debut 'MOVEMENT' from 2008.
The band consists of Stefen Newland singer, Charles Lazarus lead guitar, Jeffrey Moss-Solomon rhythm guitar, Colin Young bass, Paul Smith keyboard and Leon Campbell on drums.
They are one of a few real groups left in Jamaica with most artists now being solo singers. who use session men to back them up. Their sound is predominately roots flavoured with a blend of dub and rock added to the mix.
Last year the band toured extensively across America and Europe appearing with the likes of The Mighty Diamonds, Aswad, Toots and the Maytals, Dubtonic Kru, Danakil and Alpha Blondy. Look out for a review of the album here soon.