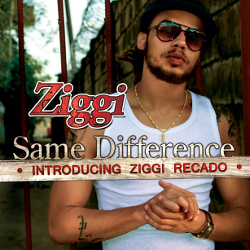 Certainly the name Ziggi should be one very familiar to Reggae fans by this point via the King's son Ziggy as well as Dutch Caribbean star, Ziggi, who has been blazing big tunes for quite some time now, going back to his outstanding sophomore release, 'In Transit', from 2010. Well, in order to distinguish himself even further from the prince, the Statian dynamo has now renamed himself Ziggi Recado and to celebrate the occasion he's released a very strong EP, 'Same Difference', through his homebase, Rock 'N Vibes.
The digital release features six tunes of varying popularity, but all of which are certain to find a heavy interests from fans worldwide. Highlighting the project are the Curtis Lynch Jr. [of Necessary Mayhem] produced Ganja Smoke In The Air [aka Joka Smoka] and Baddest which berthed a video which is currently causing quite a bit of controversy. Also interesting is the duet ballad You, which just so happens to feature Reggae legend Marcia Griffiths.
For fans wanting to get a closer inspection and begin to get used to the new moniker, 'Same Difference' by Ziggi Recado is available digitally right now.