The guitarist Earl Chinna Smith is a pivotal figure in Jamaican music by anyone's reckoning. And in recent years the Inna De Yard album series for French label Makasound captured Chinna and likeminded musicians in his Jamaican home, reminding the world that acoustic roots reggae is the equal of its electric cousin.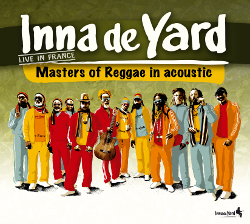 In addition to the recordings, Makasound also formed an ensemble of said musicians to tour France (and beyond) each year. 2010 brings an Inna De Yard live CD and DVD whose release marks the start of with the group's annual round trip.
The CD was recorded in Paris and Nancy in April 2009. It features performances by Chinna along with veterans Cedric Myton, The Viceroys, Linval Thompson and Kiddus I, and rising stars the mournful voiced Derajah and Matthew - son of Winston - McAnuff.
Rather than putting out the same shows on DVD, Makasound has recorded an entirely different performance from Printemps de Bourges where almost every featured artist gets two songs a piece. The DVD also contains bonus material featuring Prince Allah, Junior Murvin and more.
The Inna De Yard Live In France CD and DVD will be released on July 11th.
Tour dates are as follows: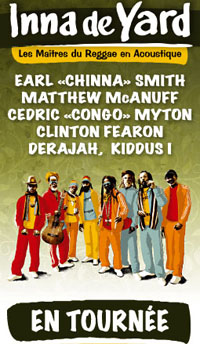 12/07 : MULHOUSE (68) - Festival Bête de Scène
15/07 : PARIS (75) - Glazart La Plage
17/07 : DOUR (Belgium) - Festival de DOUR
18/07 : LONDRES (UK) - Barbican Center
23/07 : NYON (Swiss) - PALEO Festival
24/07 : ST CROIX VOLVESTRE (09) - Festival Terre de Couleurs
25/07 : MULHEIM AM RHEIN (Germany) - Festival Reggae Ruhr
27/07 : HOSSEGOR - SEIGNOSSE (40) - Les Bourdaines
29/07 : BAGNOLS SUR CEZE (30) - GARANCE Reggae Festival
31/07 : BERSENBRUCK (Germany) - Festival REGGAE JAM
06/08 : ST NAZAIRE (44) - Festival LES ESCALE DE ST NAZAIRE
07/08 : GEEL (Holland) - Festival REGGAE GEEL