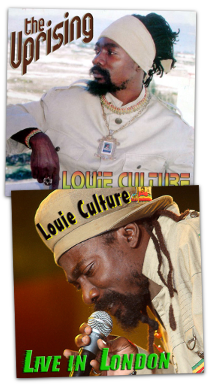 The Ganga Lee himself, Louie Culture, is making a most welcome return and is back on the scene with not one, but two different digital projects. Culture's name is one which has always had an impact on big fans of Reggae music and despite rather long stretches of inactivity, the veteran has remained quite popular which is surely going to make the attention for this material very high.
The first album is actually a re-release of Louie Culture's last studiop album, 2004's 'The Uprising' (originally on Reggae Central Records). This very solid peace featured a most impressive lyrical display from Culture on big tunes like the title track, Donkey Back, Chant Nyabinghi, Free Flow Information and Ten Miles From The City. It had been all but lost in the years since its release and certainly the fact that it is now available will make many fans happy across the globe who missed it the first time through.
The other project, 'Louie Culture: Live In London', is even more interesting! This piece features a full show delivered by Culture on a London stage. Of course, with live albums different things come into play, but one of the nicest things here is the audience's reaction to the artist as they cheer loudly for classic Louie Culture tunes such as Bogus Badge, Rudie Don't Fear and, of course, Ganga Lee.
Both of these pieces, marking the return of an incredible talent in Louie Culture, are available digitally now via Zojak Worldwide.