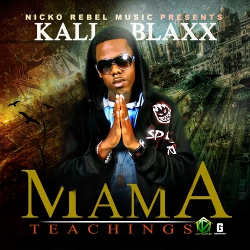 Chanter Kali Blaxx from out of St. Ann may not exactly be a household name in Reggae music quite yet, but if his history is any indication, he may very well be on his way to being such with his very strong output. Previously Blaxx was known for his outstanding 'One Smoke' tune for Cut Stone Productions and he's also worked extensively with labels such as Itation Records and Silly Walks. Most recently, he's linked with Nicko Rebel Music to deliver his latest big single, 'Mama Teaching'.
The single has gotten a nice push and a bit of attention and even led to a very nice new video for the artist. As Kali Blaxx becomes a bigger and bigger name, his music certainly needs to be pushed and the 'muscle' placed behind this kind of melancholy and stoic ode to Mama has definitely been guided in the right channels.
Not the least of which is the fact that already you can pick up the tune digitally via fine etailers worldwide courtesy of Nicko Rebel Music and Zojak Worldwide.