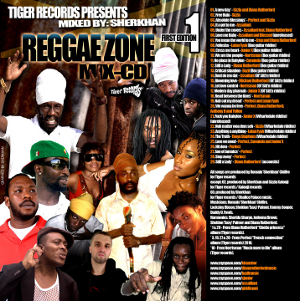 The ever active and fruitful Sherkhan and company at Tiger Records continue to remain active while wrapping up the first half of 2010 with yet another very colourful and interesting release. Following the excellent Box Guitar Riddim earlier this year, the label now releases a showcase of sorts with their very first edition of the presumptive series, 'Reggae Zone Mix-CD'. The piece, mixed by Sherkhan himself, features material stretching back to 2004 and as recent as 2010 and it also features some very big names with very big efforts, some up and comers and some first rinsed songs, never heard before.
Tiger Records regulars like Sizzla Kalonji, Perfect, Diana Rutherford, Lutan Fyah and Norris Man all check in with multiple efforts on familiar riddims like the aforementioned Box Guitar, the Wharfedale and the Ol' Sitt'n and things run excellently. Also on board is Junior X's mammoth shot, Cross Me Heart, certain to become one of the signature tunes of 2010 and listeners can also look forward to Free Buju, Sizzla's tune for the currently incarcerated Reggae legend.
No need to wait on this one at all. Tiger Records' 'Reggae Zone Mix-CD' is already available on fine etailers courtesy of Zojak Worldwide.