In Dancehall longevity is a very very rare thing. With the revolving door type of situaton the genre has experienced since its birth, to find someone who can stick through and maintain is a very rare thing and because it is so male-dominated, when that someone is a woman, you really are dealing with someone special. Such is the case with the longtime and still reigning Queen of The Dancehall, Ms. Marion Hall, bka Lady Saw who returns with her first album in three years and her first after her contract with VP Records, the aptly titled 'My Way' for her ver own, Diva Records.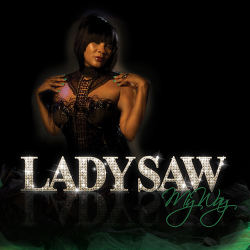 Fans may remember a little while ago when Saw said that she had turned a new leaf in her career and wasn't going to be as raw as she had through the majority of her career and because, for the large part, she has maintained that course, listeners can expect what may prove to be her most lyrically inventive set to date (and some of the 'harder' edged vibes she's known for as well). They can also expect combinations with the likes of Hip-Hop star Eve, and Dancehall familiars Camar and Ding Dong as well as top notch vibes from one of the most talented artists the Dancehall has ever seen.
What is certain to be one of the biggest events in Dancehall in 2010, Lady Saw's 'My Way', hits stores on September 7 and check out the latest from an artist who has definitely earned the right to do things her own way. The single Party Till December will be available on August 10th.
You can download a track for free at http://ladysaw.bandcamp.com/track/every-way-mi-go