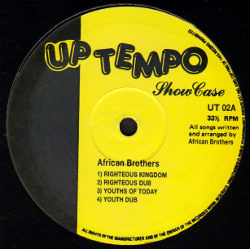 Here is a nice roots release from Up Tempo Records. The UK label, founded in the early 80's, comes with a 10'' showcase featuring four classic songs from the African Brothers - whose members were the late Sugar Minott, Tony Tuff and Derrick 'Eric Bubbles' Howard.

The release features Righteous Kingdom, Youths of Today, Lead us Father (here called Lead Us Heavenly Father) and How Long (also known as King Son). Four pure roots songs that recall the golden era of vocal harmonic groups - like the Abyssinians or Congos. All these tracks were originally released on 7'' on the African Brothers' label Ital in the 70's (1970-75). They were also released a first time by Up Tempo label in 1987 on the 'Sugar Minott and The African Brothers - Collectors Item' LP. Since then, Sugar Minott's Black Roots label reissued several tunes such as Righteous Kingdom several times.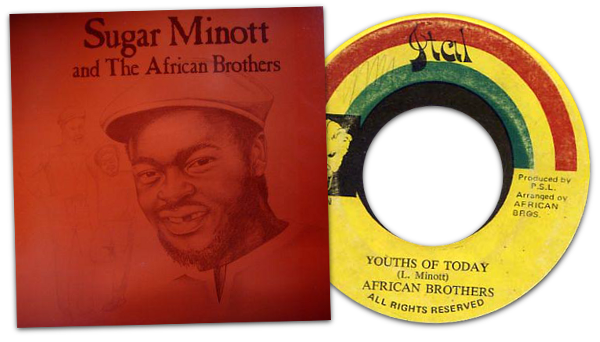 Here are at least three reasons to pay attention to this new 10'' : First, the sound is proper. Then, the 1987 LP release is pretty hard to find (and quite expensive), less than the original Ital singles, but still represents a good amount. Thirdly, each tune of the new Up Tempo release is followed by its version that wasn't featured on the 1987 release ! So, if you don't know the African Brothers, catch this new 10" as soon as possible and if you already know them, it's a good occasion to get these wonderful tunes (with their versions) on a same vinyl !