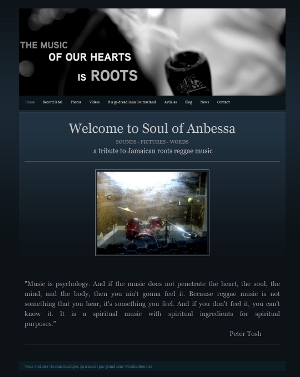 Marc Ismail, founder of Soul of Anbessa Records has just opened his website - www.soulofanbessa.com. It's not only a simple showcase website : the platform features various videos, photos and articles - most of them in French - about Jamaican culture. A place where you can see exclusive footage of Prince Alla singing the massive Heaven In My Roof or beautiful photo galleries issued from Marc trips in Jamaica.
For the French-speaking people, don't forget to check the It a go dread inna Switzerland section that features Marc's Master's dissertation. The 31 year-old journalist and producer studied during two years the development of Reggae music in Switzerland and how this music could reach this little European country, while the two countries have no historical or cultural links. The result is a 163 pages dissertation that should be traduced in English !
Of course, the site lists the releases of the label (most of them featuring Jamaican veterans such as BB Seaton, Dennis Alcapone or Johnny Osbourne) and announces the next release to the Shuttle Riddim. It's entitled Tizita riddim ("nostalgy" in amharic) and feature cuts from Prince Alla and The Tamlins. « An early 80's style, slow and heavy riddim, played by the Roots Radics », says Marc Ismail. Due out September-October 2010.