After repressing one month ago some wicked productions from Channel One, Digikiller Records strikes hard again with great tracks from vaults of Mikey 'Karat' Jarrett ! The label based in Brooklyn comes with four previously unreleased tunes and one tough instrumental produced by Mikey Jarrett.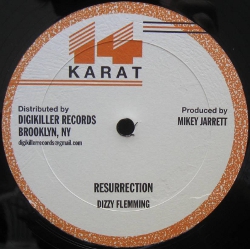 First 12'' features Dizzy Flemming killer Resurrection, produced by Jarrett and Lloydie Prince in the early 80's for Man Dingo label. The tune is a UK soundsystems favorite, definitely a « Shaka Killer ». Side B features Starvation by Mikey Jarrett in a conscious deejay style followed by the dub version.
Second 12'' features two tunes by Thriller and Wayne Jarrett over the riddim of Scion Success' tune Young Africans. These two tracks (Too Much Racket and Nice & Easy) and their dub cuts were recorded in the early 80's but remained unreleased until now. Over 25 years later, Digikiller did it ! Give thanks to the crew whose goal is simple : "Legit and high quality repressings of rare and killer tunes. No bootlegs, no bad new artwork, no terrible noisy or warped pressings".
Boths 12'' are available at every good stores. As usual with the New York label, the releases are limited, grab them before it's too late.