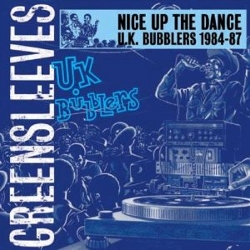 Greensleeves Records once again opens the largest vaults in the whole of Reggae music and what they bring forth this time is a release that you might've thought the UK based giant had already gotten around to. 'Nice Up The Dance: UK Bubblers 1984-87' is a double disc compilation spanning thirty-six tracks in all and it features some of the biggest and most classic names from the UK Reggae and Dancehall scene across the past two decades.
Big time artists such as Tippa Irie (who checks in with no less than eight selections), the late Deborahe Glasgow, Pato Banton and Peter Spence are certain to grab the lion's share of attention, but hardcore fans will certainly tune in on classic tunes from names such as the sweet singing Tannoi, Annette B, Ricky Tamlin and others.
This is one clearly for the collectors crowd, new and old, who will surely eat this one up for some of the more hard to find pieces here. They won't have to wait very long either because 'Nice Up The Dance: UK Bubblers 1984-87' is in stores right now.