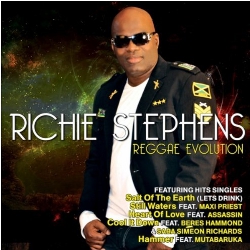 Fans of long time singer/producer, Richie Stephens, should be pleased to know that the 'winner' has once again fired up his Pot of Gold label and done so for the purpose of providing the followup for his well received 2008 album, 'Come To Jamaica', his brand new release, 'Reggae Evolution'. Stephens is such an interesting artist, in terms of his popularity, because he really seems to generate quite a bit of response whenever he has a release - a lot more than most seem to realize - and this time out, he's surely giving the masses more to pay attention to than usual.
Why? A quick glance at the cover of 'Reggae Evolution' might just tell the entire story. Combinations abound, with the likes of Beres Hammond, Mutabaruka, UK star Maxi Priest and Agent Sasco [aka Assassin], on the already well responded to remix of Stephens' tune, Heart of Love. So certainly the album isn't at all lacking in star power.
While it remains to be seen if the album (or any album for that matter) can actually evolve the genre of Reggae music in this day and age, Richie Stephens is most certainly going to give it a shot and fans interested in his success can see exactly how he did because 'Reggae Evolution' from Pot of Gold is in stores now.
Video
Video: Richie Stephens ft. Assasin - Heart Of Love (remix)