Earlier this year, Don Corleon released the sugary sweet Major Riddim to a very strong reception and he also assured that the release was part of a pair and that later in the year he would also deliver the second half, the already well regarded Minor Riddim, which he brings forth now.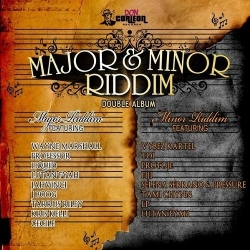 The Major Riddim was released originally on digital form and featured big artists such as Tarrus Riley, Lutan Fyah, Jah Cure and the hotter than fire Bad Gyal Ce'Cile. And instead of releasing another single piece for the Minor, Don has instead chosen to include both riddims as a pair. Filling up the ranks on the Minor Riddim are the likes of Vybz Kartel, a returning Lutan Fyah, Tami Chynn, Don Corleon favourite Pressure Busspipe [alongside Selena Serrano] and Don's own cousin, the up and coming Protoje.
This double riddim release from one of the best in the business is available now and can be picked up at fine etailers worldwide.
Video
Video: Tarrus Riley - Wild Fire