Whether you caught on with one of their very strong previous releases such as the Red Out Deh, the Sun, the Don't Know or the Praises Riddims - Or if the name Own Mission Records is a completely new one to you, fans of modern Roots Reggae (and probably of classic Roots Reggae as well) should well enjoy the latest release from the solid French imprint, the Bun Up Riddim.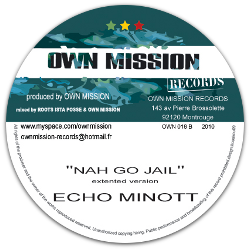 This highly intoxicating minimalistic one-drop riddim serves as a delicious backing for three very solid artists. Known for working some of the most hardcore Roots Reggae focused artists in the past such as Pressure Busspipe, Ras Zacharri, Matthew McAnuff and others, this time around Own Mission Records draws on UK based King General and Dixie Peach as well as Jamaican veteran of veteran singers, Echo Minott, who tops the riddim with his outstanding piece, 'Nah Go Jail' which definitely has hit potential.
Fans with functioning brains who want to get their hands on the big Bun Up Riddim from Own Mission Records can find it at Patate Records and on iTunes.