Certainly it's going to take something pretty large to grab the attention of the herbalist community, if for no other reason than because . . . Well they're not known as being exactly the most attentive of groups now are they?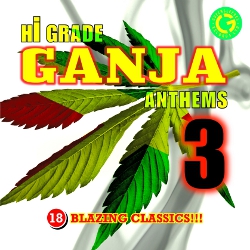 Still, that doesn't mean that it isn't worthy of an attempt and Greensleeves is giving it their best shot of 2010 thus far with the third installment of their 'Hi-Grade Ganja Anthems' series.
Unlike its two elder siblings, Vol. 3 in the series focuses primarily on the big herbalist tunes of the greats of today instead of offering the vast array of newer artists and those from yesteryear. Thus, veteran ace Dancehall DJ Charlie Chaplin's Bubbling Telephone does seem somewhat out of place alongside efforts from the likes of Tarrus Riley [with Vybz Kartel and Demarco], Collie Buddz, Busy Signal, Jah Mason, Gyptian, Bushman and Ziggi Recado amongst others.
If you can remember in your current state [fat chance], Reggae fans who also enjoy indulging occassionally, or every damn day, should be sure to check out Greensleeves' 'Hi-Grade Ganja Anthems 3' on November.