In what is being billed as the "first in-studio vocal collaboration" between the two, US based label Zion High Productions has brought together two certified Reggae music legends in the form of Daddy U Roy and the sweet voiced one, Cornel Campbell.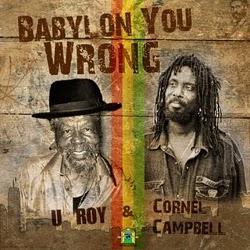 The fruits of their work is a hugesingle for 2010 and one befitting the class and standings of two such venerable artists, Babylon You Wrong. The tune declares the days Babylon and all oppressive to be "numbered" and in the process forms just a gorgeous vibes!
You need not wait to sample arguably one of the biggest tunes of the year, Babylon You Wrong by U Roy and Cornel Campbell will be available digitally on October 26th via Zion High Productions [and it also comes with a dubbed out version of the nice riddim] and Zojak Worldwide and is also set to release on vinyl on November 9th.