For his latest 'trick' Kemar 'Flava' McGregor and co. at No Doubt Records dig into one of the largest of modern Roots Reggae vaults and come up with and expand on a piece which was quite popular in its time and is now, in typical Flava fashion, given first class treatment via some of the greatest names in the business.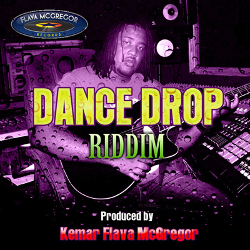 The Dance Drop Riddim was previously best known as the composition which backed the tune Somehow by Sizzla Kalonji [now renamed Blessing Us] from the 'Speak of Jah' album, but Sizzla's suddenly gotten quite a bit of company.
Like who? Anthony B, Ziggi Recado, Chezidek, Lutan Fyah and Presure Busspipe. Want more??? Everton Blender, Nickesha Lindo, Sadiki, upstar Khago, surprisingly Wayne Wonder and even Turbulence and Chuck Fenda with two previously heard big tunes from their own No Doubt produced sets.
Flava and No Doubt Records have gone largely in-house these days and the Drop Dance Riddim [along with just about EVERYTHING they've EVER done - EVER] can be purchased exclusively at their recently refurbished website FlavaMcGregor.com.