Wasn't it just yesterday or . . . Oh maybe a few hours ago when the increasingly wicked Irie Ites from out of France dropped their most recent release, the Party Time & Take A Lick Riddims compilation?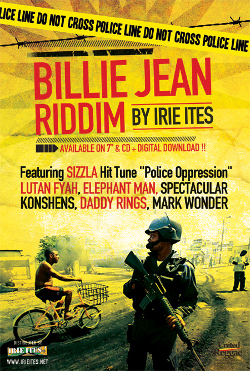 Well apparently they've absolutely no time to waste at all and were hard at work back on things immediately afterwards because what they've come up with this time, is arguably just as crucial. Billie Jean is far more than "just a girl who thinks that I am the one", she's also the namesake of a classic riddim which the team at Irie Ites has now remade.
As usual, they've lined up a stellar cast of big time modern acts with the star this time around being Sizzla Kalonji who brings forth the dominant Police Oppression and the Reggae legend is joined by the likes of Mark Wonder, Daddy Rings, surprisingly Konshens and Elephant Man as well as label regulars Lutan Fyah and Spectacular. Also, Irie Ites has done a mix of all the tunes in a Hip-hop style which is something that they're also becoming known for.
Anytime Irie Ites has something new, it's almost certain to be big and listeners can find out just how big their take on the Billie Jean Riddim is very soon on 7" Singles and in December on CD and digital downloads.