For those of you in the Los Angeles area, don't miss Secret Education, a rare exhibit of Lee Perry's art.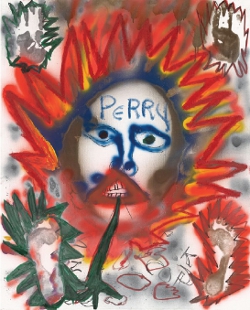 "Dem Passwords Art Gallery is pleased to present the first solo exhibition of paintings, drawings and video by Lee Perry. Perry began decorating his Black Ark studio walls in the 1970s with strange and eccentric writings, paintings and pasted elements alongside (and often over) the work of Jah Wise, the Rasta artist who adorned the Black Ark with its distinctive artwork. For the past 20 years, Scratch has continued to create, building found-object sculptures in his yard and covering every surface both inside and outside of his home with spiritual graffiti. In the 1980s, Perry added photography and video to the mix and began styling his wardrobe with mirrors and other objects of private spiritual signifiance."
The exhibition runs from November 13 to December 11. For more information, download the press release from the Dem Passwords website.