Out on the 22nd November from the Mungo HiFi led Scotch Bonnet label is the latest release from their Scrub-A-Dub subsidiary. The first batch of releases from this label were squarely aimed at the dub step market, but now we see a change of tact with this modern steppers offering.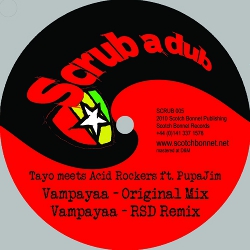 The song is called Vampayaa and is by Tayo Meets Acid Rockers and features Pupajim, the young vocalist from Brest in North West France who with his falsetto style sounds vaguely similar to Horace Andy.
As usual there are three remixes. Toronto based Marcus Visinoary gives it more of a tribal feeling riddim while Bristols RSD adds electronica and Philidelphia's Starkey dowses everything with swirling synths.
This 12" heavy weight vinyl is a limited edition press so check with www.scotchbonnet.net for further details.