Apparently French people love Reggae music just as much as they love . . . being French because it seems like pretty much every damn day there's a new label from out of the country which is not only involved in the music, but involved to the degree that the rest of us almost need to pay attention.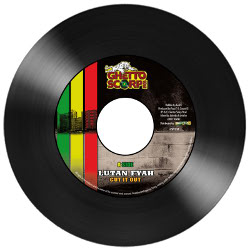 One of the latest seemingly very solid French groups to pop up is Ghetto Scorp Productions who says "HELLO" to the world with the release of their initial project the Eyes On My Purpose Riddim.
Hopefully, to fans of this site, the very fact that a riddim release features the likes of Lutan Fyah, Sena and Spectacular is evidence of another, far more tenured, French label - Irie Ites - Who is on board as distributors of the project, which also features Black Warrior. To his credit, it is Spectacular, in a spectacular form, whose wicked tune, I Wish, takes top honours on the riddim.
While putting together their own latest project, a relick of the Billie Jean Riddim, Irie Ites has already managed to get this one out as the Eyes On My Purpose Riddim from Ghetto Scorp Productions is currently in stores.
Video
Video: Spectacular - I Wish