The young, aspiring singer from St Elizabeth, Jamaica Protoje has just made available via his official website, www.protoje.com a free download sampler of his forthcoming album 'The Seven Year Itch'.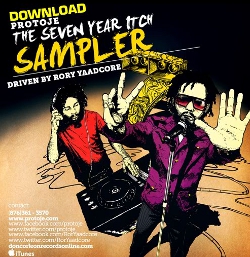 The album has been produced by Don Corleon, with music supplied by Rory Yaadcore. It promises to be a new and fresh album that still manages to retain a strong vintage feel.
The sampler is nicely packaged and contains all previously released tracks that are appearing on the album, Arguments, Dread, JA, Roll, and Rasta Love (featuring Ky-Mani Marley), complete with their own artwork designed by Taj Francis. Also to accompony each track is an exclusive audio clip of Protoje explaining his creative process.
Talking about the sampler Protoje had to say "These songs were written over a 7 Year Period, hence the album title 7 Year Itch. I want this Sampler to give people who wouldn't normally have access to my music, a chance to connect, and to understand why I choose to express myself in this way. All I ask is for ones to share this music. Spread music Spread Love".
The album is due for release in early 2011.