While not reaching as far, in the global sense, as albums from earlier in 2010 such as 'Distant Relatives' from Damian Marley & Nas and Gyptian's 'Hold You',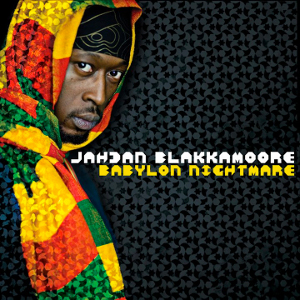 'Babylon Nightmare' from outstanding Guyana born chanter Jahdan Blakkamoore is definitely one of the most anticipated Reggae projects of the year and after much delay, it is finally set and ready to drop worldwide on December 7 from the solid US based imprint, Lustre Kings Productions.
Previously, Blakkamoore well earned his stripes as a member of the well regarded Noble Society trio which would go on to produce 'Take Charge' [also from LKP], an album which iTunes would vote as Reggae Album of The Year 2008. Curiously, Blakkamoore would 'defend' the honour the following year with his solo debut, the much varied 'Buzzrock Warrior' and now he attempts to complete the triangle with this much anticipated of releases.
The hope here is that 'Babylon Nightmare' will prove to be a bit more Reggae-centric than his first effort, particularly with the very Reggae heavy Lustre Kings on the boards. All of that will be revealed on December 7, in the meantime check out the video for the album's first single All Comes Back To One.
Video
Video: Jahdan Blakkamoore - All Comes Back to One