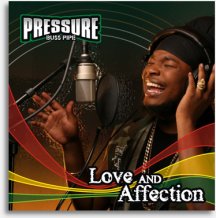 After cooperating on several singles this year, jamaican producer Donovan "Don Corleon" Bennett is about to release awaited Pressure second album Love and Affection. This set features 16 songs including 6 already released as 7 inch in 2007 on Don Corleon records - Love and Affection, Ghetto Life, Be Free or recent So Appealing to name a few.
If you liked Don Corleon new roots riddims like Drop Leaf (2004), Seasons (2005) or Heavenly (2006) you will enjoy this new set of one drop tunes.
Born in 1981 in US Virgin Islands, Pressure "Buss Pipe" released a noticed first album in 2005. This second one is due on 6th November 2007 with 2 other Don Corleon produced albums, Sacrifice by Alaine and Bad From Mi Born by Munga.
Video
Video: Pressure - Love and Affection (VP Records - 2007)