Maybe it was earlier this year when you first caught on to the works of the big House of Riddim band and label from out of Austria as the group pushed what has been, arguably, its most high profile release to date, the 'Born To Be Free' album from outstanding Jamaican singer Natty King, or maybe you've been a fan from before.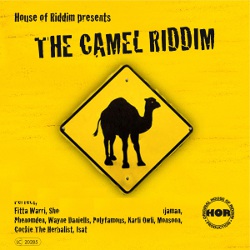 Whichever the case, all of the label's followers are sure to be interested in its latest creation and release, the beautifully intoxicating Camel Riddim.
This pulsing set features big artists such as, of course, Natty King [with the tune Don't Be Foolish from his aforementioned album], Perfect, the former Mr. Flash - Zareb, Fitta Warri, Anthony Cruz, Uwe Banton, Karli Owli and more.
This one is pretty good actually and a big deal. so definitely check it out when the Camel Riddim releases on December 17.