It may not be completely accurate, but it certainly does seem to have been quite awhile since last was heard from one of the finest French labels on the planet [and there are billions of French labels, so that's saying something 'special'], Special Delivery Music. Well the label known for having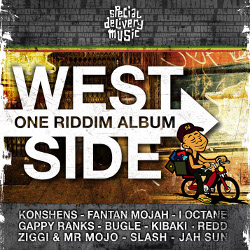 dropped such stellar compositions as the Visions Riddim, the Je T'aime, the Judgement Time and the massive Sugar Riddim from last year is back at work and back at work with yet another impressive release, the captivating Westside Riddim.
As usual, Special Delivery has assembled a stellar cast to ride their latest piece and on board the Westside can be found the likes of I-Octane, Konshens, Ziggi Recado & Mr. Mojo [Morgan], Fantan Mojah and of course Special Delivery's own, Gappy Ranks. Listeners can also look forward to big efforts from up and comers such as Slash and Redd.
The Westside Riddim from Special Delivery Music is currently available on etailers everywhere and is reportedly headed for a physical release in an expanded form featuring breakout Dutch star Maikal X, wicked Gwada chanter Tiwony and others.